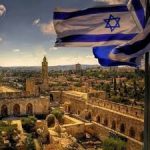 Join us on a fabulous trip to Israel
Leave from Chicago on Sunday, April 29,2018.
Arrive in Israel on Monday.
Tour includes:
9 days in Israel: Tel Aviv, Jerusalem, Be'er Sheva, The Dead Sea, Masada, Yad Vashem, and more !
Basic Information sheet including cost can be found here: Peoria info sheet 18
Detailed Itinerary can be found here: Experience Israel
FULL REGISTRATION LINK AVAILABLE HERE
Travel insurance (highly recommended) info available here: Travelex-Select program
Loan Information for JFP members
Contact Orit (see below) with questions or to purchase.
Group airfare is $1000-must be booked by January 12. To book a ticket with the group contact the office-call Susan Katz: 309-689-0063 or email Sue@jewishpeoria.org
Deadline to Register for the trip is January 12. NO EXCEPTIONS.
If you will be flying on your own please keep in mind that the group will be landing in Tel Aviv at 3:00 p.m. on Monday, April 30. You must make your own arrangements to connect with the group. Group will be leaving on Wednesday, April 9 at 6:15 am.
The group is flying Chicago/Vienna/Tel Aviv.
To book with our agent contact Orit Keren: 1-800-804-0434
Next year in Jerusalem!