Topic: "CHILDREN AND THE HOLOCAUST"
Sponsored by The Jewish Federation of Peoria
Forms coming this fall.
A poet once remarked that the death of a child is the loss of infinite possibilities. What, then, can be said about the more than one-and-a-half million Jewish children who were murdered by the Nazis during the Holocaust years (1933-1945)? Of course, many more boys and girls suffered unimaginable hardships and bore witness to the brutality of the Nazis. Some survived. Many did not. Regardless of how experiences varied from country to country, children's lives were changed forever. The purpose of this essay contest is to record the stories that must be told to yesterday's, today's and tomorrow's children
Part A: Research the history of a specific child or youth who was caught in or witnessed the events of the Holocaust in Europe. This person could have lived in a ghetto, been hidden, carried out clandestine activities, been a part of a kindertransport, known the horrors of concentration camps and/or experienced the Holocaust in a myriad of other ways. He or she could have been a Jew or a non-Jew, or have been a part of a family or a group of children suffering the same fate. Describe the conditions under which this individual lived and the circumstances that impacted his/her life during the Holocaust years. If he or she survived, briefly explain what happened after 1945.
Part B: Tell how learning about the Holocaust through the personal story of this one individual makes the Holocaust more meaningful to you.
Papers must be delivered in person or mailed to: The Jewish Federation of Peoria
2000 Pioneer Pkwy. Suite 10B, Peoria, IL 61615.
Phone: 309-689-0063
Deadline to enter: Feb. 1, 2018
Open to Students 7/8 grade
Peoria and Tazewell Counties; Public, Parochial and home schooled.
Prizes sponsored by Robert W. Baird & Co.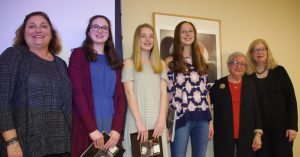 2018 Winners:
Left to right:
Terri Broms-co-chair White Rose Essay Contest, MIa, Abby, Hannah, Doris Fogel-Guest speaker, Evelyn Vogel, Co-chair White Rose Essay Contest.
Mia Points – 1st place: Children of the Holocaust by Mia Points,
Abby Scannell-2nd place: Meaning by Abby Scannell
Hannah Tellor-3rd place: A Stolen childhood by Hannah Tellor
$200 First Place
$125 Second Place
$100 Third Place
2017 Winners:
Pictured with Committee Co-Chairs: Evelyn Vogel and Terri Broms